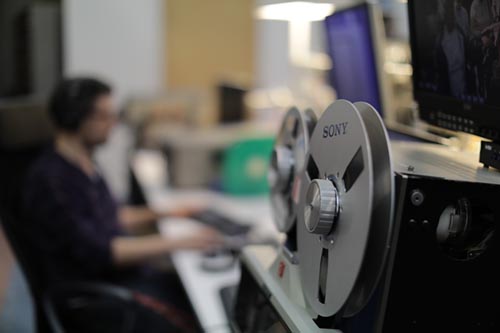 Valuable, underutilised tape and film will be converted to accessible digital content.
egoli AI to analyse and tag second by second, bringing new commercial value to archive content.
London, UK – 18 March 2021
egoli Media has, today, announced a new strategic services agreement with leading media services specialist, LMH.
The agreement will see LMH provide digitisation services as part of egoli Media's ground-breaking, end-to-end digital content management solution, which converts legacy tape and film to consumer-ready, licensable digital content for rights holders and content creators.
By identifying and tagging content by people, places, actions, brands and more as part of the digitisation process to create an organised, searchable library, egoli Media's Artificial Intelligence (AI)-enabled technology can unlock new opportunities to commercialise underutilised and often forgotten legacy content.
The agreement follows egoli Media's recent collaboration with the International Paralympic Committee (IPC) to revolutionise its content offering by digitising and facilitating the licensing of over 8,000 hours of archive footage stretching back to the 1992 Paralympic Games. Additionally, up to 1,500 hours of live broadcast World Feeds and non-televised footage from the Tokyo 2020 Paralympic Games will be categorised via egoli's Annotation engine.
UK-based LMH is vastly experienced in mass tape-to-file and file-to-file library migration from almost any format. Its clients include elite sports rights owners, production companies and some of the UK's largest national archives.
Founder and CEO of egoli Media, Caroline Rowland, said:
"There has been exponential growth in the amount of video content created, while its organisation, storage and migration has been neglected. Our new strategic services agreement with LMH addresses this challenge, filling a huge gap in the market.
"When I founded egoli Media I realised I owned more than 12,000 hours of content on unorganised and inaccessible tape and had no way of realising the value this held. Together, we are enabling rights holders and content creators to digitise their archive tape and film and migrate it to accessible, secure file storage, opening up new revenue opportunities – all powered by egoli's ground-breaking AI technology."
Managing Director of LMH, Gary Edwards, said:
"The strong growth of cyber infrastructure we have observed over the last few years, coupled with much tighter security protocols, has produced fertile ground for AI products to really flourish, so our strategic services agreement with egoli Media comes at a very exciting time.
"LMH's expertise in delivering budget-conscious, high-quality library migration solutions means we are perfectly placed to act as egoli Media's 'heavy-lift' partner and technical gatekeeper, taking content from any form factor and standardising, validating and distributing it to any endpoint in the world. The agreement affords both LMH and egoli Media's clients the opportunity to enrich their digitised assets in a cost-effective way and make their content both attractive and accessible to potential buyers."